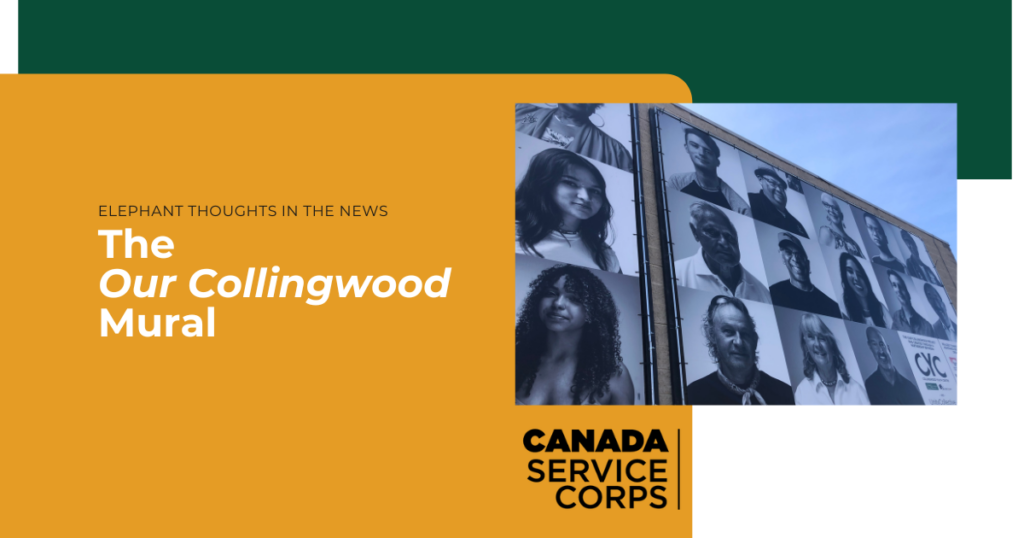 A new 60 foot mural titled 'Our Collingwood' now adorns a once bare wall near First and Spruce Street in Collingwood, Ontario thanks to a collaborative effort made by several community group. The project was facilitated by our Collingwood Youth Centre and supported with funding from the Canadian Service Corps. The mural showcases 42 portraits of diverse Collingwood residents. The portraits were taken by local youth photographers, John Cardillo Jr., Emma Thornwell, and Kaiden Collver, active with the Collingwood Youth Centre.
A second piece of the project will include 16 placards set to adorn the Train Trail and a website that will reveal the personal stories of the 42 participants.
The purpose of the mural and subsequent installments is multi-pronged.
We want to put the Collingwood Youth Centre on the map, increasing awareness within the community of the center so that more youth may take advantage of the incredible resources, programs, and opportunities available to them.
The youth photographers are working hard to develop their skills and the opportunity to be showcased on such a grand scale and in a public setting will open doors to more career-related, and skill-building opportunities.
Giving back to the community with a beautiful installment that showcases the diversity and vibrance of the Georgian Bay community.
To learn more check out these and other articles about the mural:
Collingwood Today Article
Bayshore Broadcasting Article